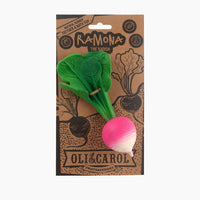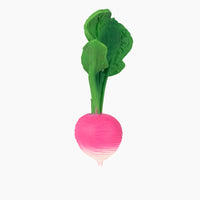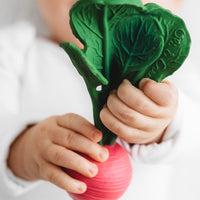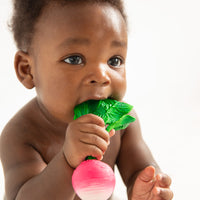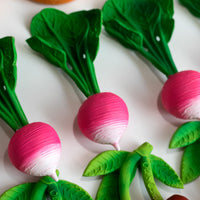 RAMONA THE RADISH TEETHER
Ramona the Radish is a veggie-shaped baby teether that will stimulate babies' senses while soothing little gums. Its size is perfect for kids to hold on and its realistic textures will help develop kids' sense of touch. Introduce kids into a healthy lifestyle from a young age! It will become babies and kids' favorite teether, bath toy and sensory play toy.  
This product is perfect as a baby teether, babies and kids toy, bath toy, for sensory play and decorative object. It is made following an artisanal, sustainable and eco-friendly process with 100% natural rubber from Hevea trees. As it is made all in one piece with no holes, it avoids the creation of bacteria inside. Hand painted with natural pigments one by one, so there are no two alike!