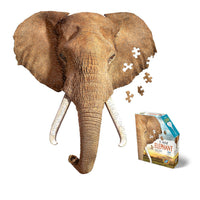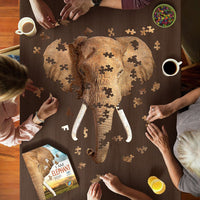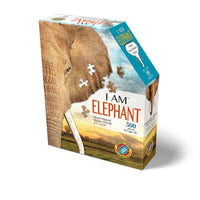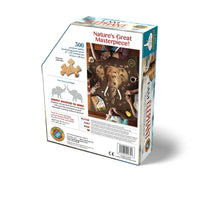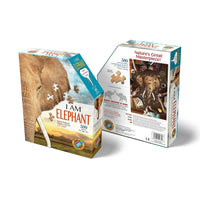 I AM ELEPHANT PUZZLE
Nature's Great Masterpiece! Unique-shaped 300-piece jigsaw puzzle for ages 10 and up.
Each puzzle comes with an educational Fun Facts insert. On one side is a fold-out puzzle image to hang as a poster or use as a reference. On the flipside is a wealth of amazing facts. Did you know, for instance, that elephants welcome back their lost members with a greeting, and cluster around distraught or anxious babies in the herd?
Content: 300 pieces

Finished size: 21" x 23" (fits on most tabletops and hospital trays)

Unique-shaped border

Random cut interlocking puzzle piece

High gloss, photo-realistic animal image

Packaged in a sealed poly bag and tamperproof box. Dust-free!

Box size: 8.5" x 7" x 2.5"

For ages 10 and up

Dimension - 8.5" x 7" x 2.5"