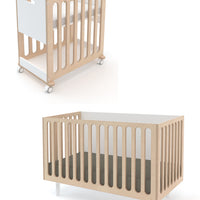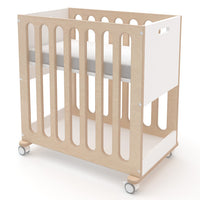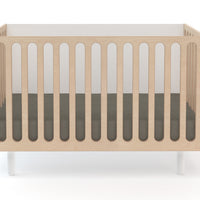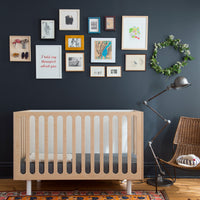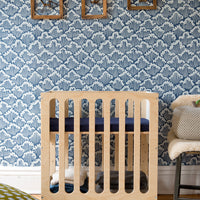 FAWN 2-IN-1 CRIB SYSTEM
*Shipping available to the 48 contiguous US states ONLY

The Fawn crib and bassinet system starts as a bassinet on wheels and can be converted into a full sized crib.
This modern, eco-friendly design is both practical and beautiful.
Bassinet mattress sold with system, crib mattress sold separately.
All furniture and mattress sales are final.
No returns or refunds will be allowed.
Smart Design: Easy to assemble Bassinet mattress has one mattress position, crib has 3 mattress positions
Low overall height for easy access
Small footprint helps utilize space efficiently
Eco-friendly: Sustainably produced in Europe in an FSC certified facility
Made of Baltic birch plywood and eco-MDF
Finishes are non toxic, water-based and free of VOC health hazards
Made under European environmental standards
Packaging made of recycled cardboard
Responsible recycling through licensed collecting facilities
Adaptable: Bassinet converts to a crib (conversion kit included)
Crib converts to toddler bed with conversion kit (sold separately)
Crib has 3 adjustable mattress positions
Other info: bassinet - 16"W × 28" W | crib & toddler bed - 28"W × 52"L (standard size crib mattress) (sold separately)
Mattress must be at least 27 1/4"W x 51 5/8"L and 4-6" thick
Color: White/Birch