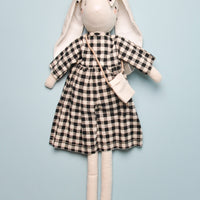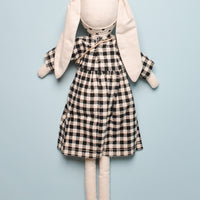 SOFIA BUNNY - BLACK CHECK
Experience the enchantment of  our Alimrose 50cm Sofia Bunny Black Check, a delightful blend of timeless elegance and contemporary charm. With her cute embroidered face and linen/cotton headbow, Sofia is a captivating companion for all ages. Let's delve into the unique features that make Sofia a must-have:

Cute Embroidered Face: Sofia's sweet embroidered face brings her to life, capturing hearts with her endearing expression and adding a touch of personality.

Linen/Cotton Headbow: Sofia comes adorned with a charming linen/cotton headbow, enhancing her appearance and allowing for stylish accessorizing.

Mini Cross Body Bag: To elevate playtime, Sofia arrives with a mini cross body bag, adding an element of interactivity and imaginative play.

Alimrose 50cm Sofia Bunny Black Check is an ideal gift for birthdays, holidays, or special occasions. Whether for children or collectors, Sofia promises to bring joy and sophistication to any setting.
Suitable for ages 3 years & up.