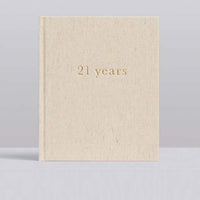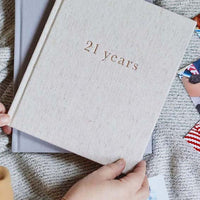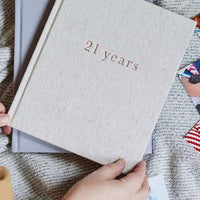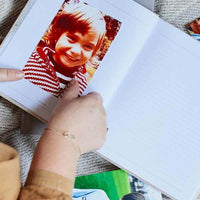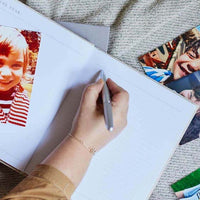 21 YEARS OF YOU
Take the time to write to your child once a year. As a summary at the end of each year or on every birthday. Write your memories, time spent together, highlights of the year, achievements, friendships and vacations. Tell your hopes and dreams and include photos too. Over the years create a special journal to gift on their 21st birthday.
This is the perfect sentimental gift for a 21st birthday. The act of receiving a personalised handwritten journal that has been kept your whole life would be one of the most priceless gifts one could receive. A journal that will be kept as a personal heirloom and referred to throughout future years. 
Size

 

230 x 190mm | 9 x 7.5in



Pages

 

96 pages
Cover

 

Beautiful linen hard cover with gold embossed title & spine
Endpaper Endpapers feature artwork
Paper 120GSM FSC certified paper 
Binding

 

Case Bound 
Flat Lay Binding Journal lays flat for easy writing 
Features One page to place a photo and three lined pages for writing for each year, from 1 to 21 years
We Recommend Using a ball point pen
We Recommend Photos dots, double sided tape or acid free washi tape for sticking photos
Designed in Melbourne, Australia.